An effort to keep an important artifact of American advertising art alive and well as the centerpiece of the new MOXIE MUSEUM annex of the Matthews Museum in Union, Maine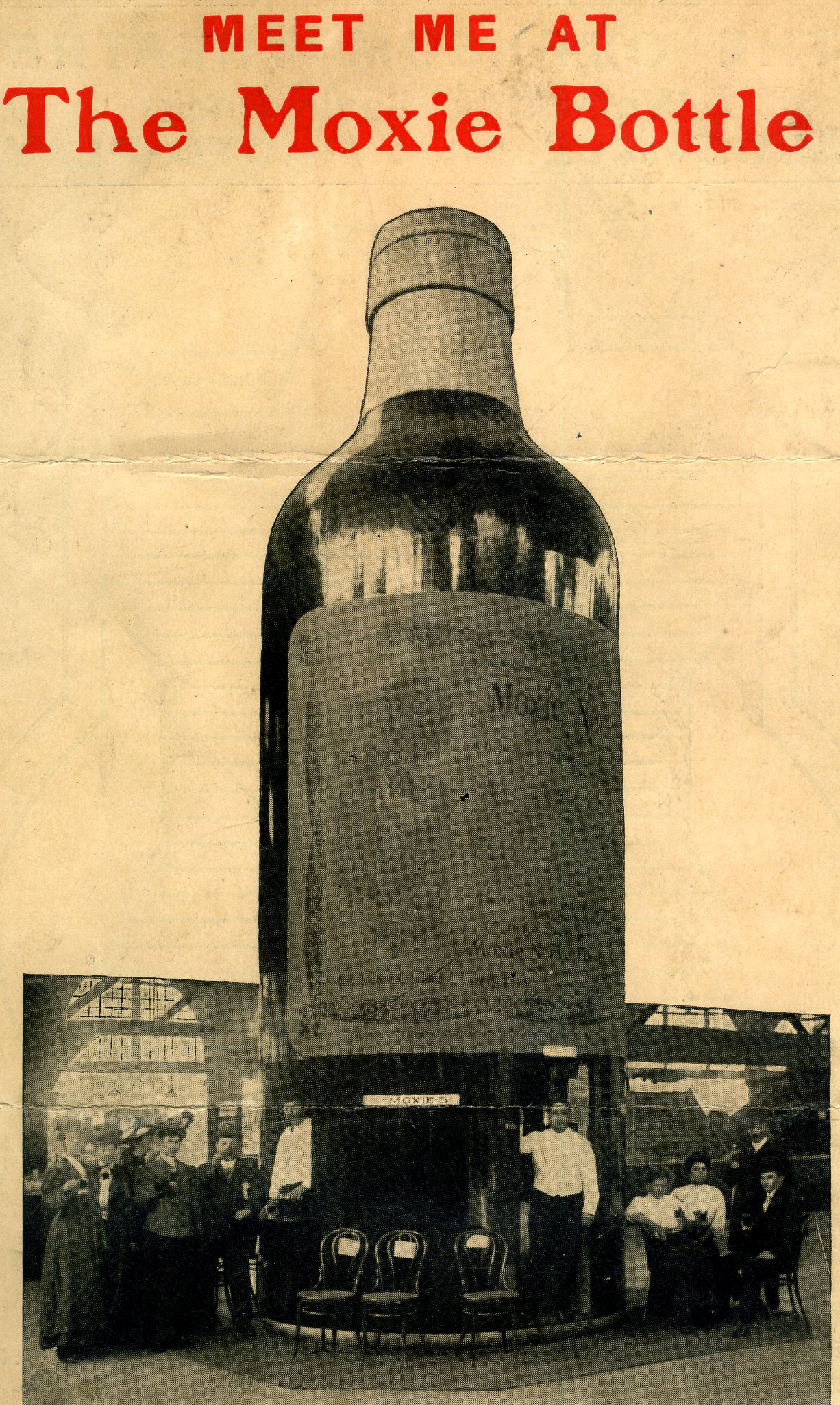 Pictured right is the first (of two known, and the only one remaining) Moxie Bottle stand, probably in late 1907, on display at the Food Fair in Boston.
This is the story of a campaign to preserve and restore a somewhat obscure example of Commercial mimetic architecture, not overwhelmingly remarkable in terms of aesthetic merit or historical significance, but with an unusual human twist.
The object of this preservation effort was an advertising/marketing device for less than two decades of its life. It then became a lively focal point for the social life of a New Hampshire neighborhood for almost half a century thereafter, after which it gradually fell victim to the ravishes of disuse and neglect.

A small but dedicated band of Moxie aficionados became aware of its plight and has embarked on a mission to rescue, secure, and protect this icon of Moxiana for posterity. Somebody had to do it (although we're not quite sure why). Maybe it's because "we got Moxie" and want to keep it. . . and you can help, too!
In the 1880's Dr. Augustin Thompson, a native of Union, Maine, patented the cure-all nostrum called "Moxie Nerve Food" and distributed it from a small plant in Lowell Mass. in the form of a carbonated beverage. It became regionally successful with production growing steadily into the 20th century as the Moxie Nerve Food Company expanded and transferred its base of operations to Boston.

The passage of the Pure Food and Drugs act in 1906 had two profound effects on the Company. The first was a significant "toning down" of unsubstantiated medicinal claims and the second was a rush to extol the virtues of purity, cleanliness, and the absence of evil ingredients such as alcohol, cocaine, or caffeine. Moxie was now a "healthful and refreshing beverage which has a tendency to counteract the ill effect of summer heat" rather than a "food for the nerves which has been proven to cure imbecility and loss of manhood".

At any rate, Moxie climbed onto the Pure Food and Drugs bandwagon, obtained Federal Registration Number 1799, and began a promotional campaign based on being purer and cleaner that its competitors.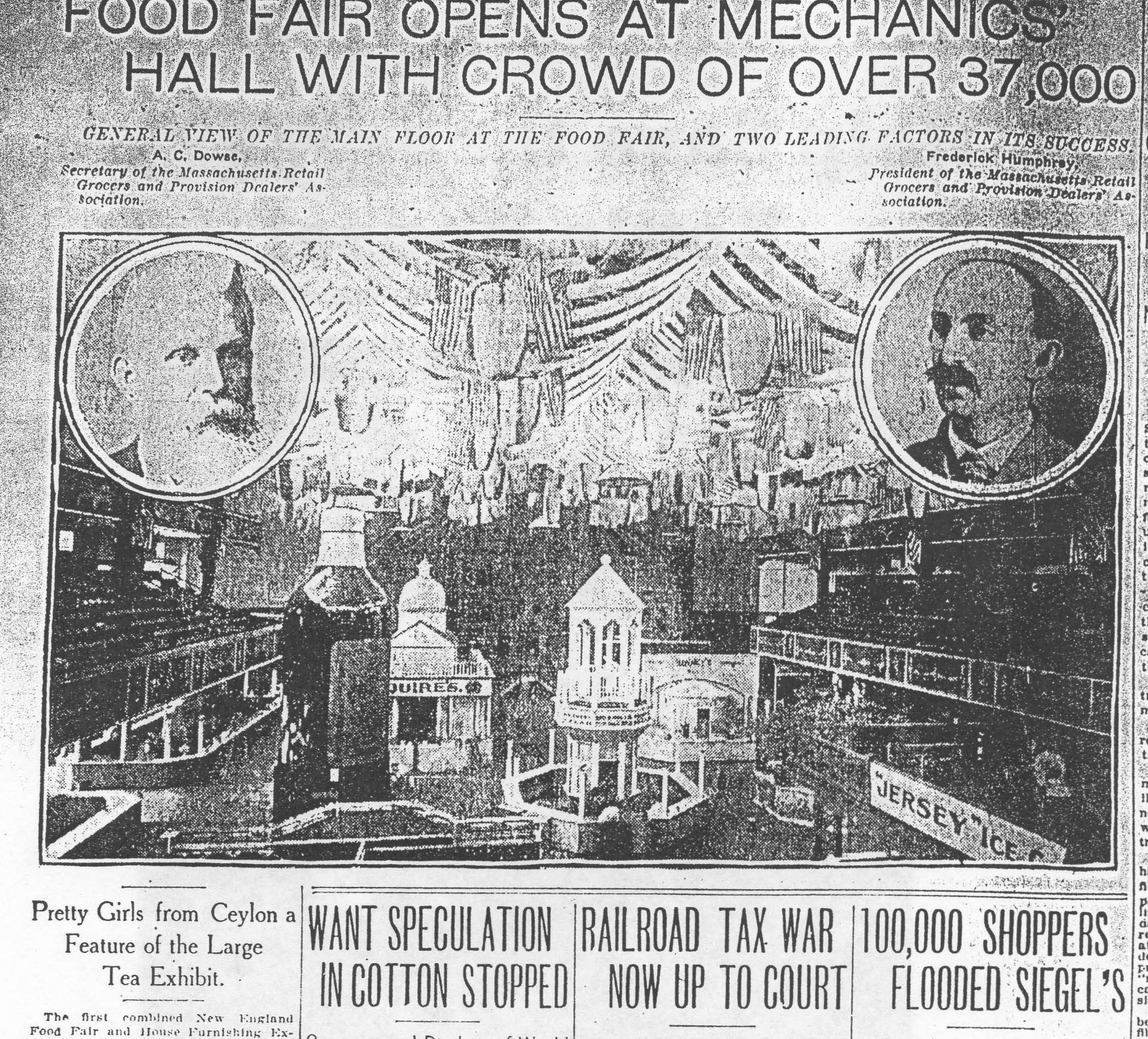 One vehicle for doing so was participation in a number of then-popular Food Fairs and Domestic Science Expositions.
The powers-to-be at Moxie decided to design a trade show booth which was a 32' high by 10' diameter replica of the distinctive Moxie bottle, complete with label and bottle cap, with doors and windows used to purvey samples of the distinctive beverage to the clamoring public.
This Bottle Stand was of oak, spruce, and New England pinewood construction, designed with pin-connected sections which could be easily dismantled, transported, and reassembled in "road show" fashion.
Its first known display was at the New England Food Fair at Mechanics Hall in Boston in the Fall of 1907. It was acclaimed in the press as an "immense novelty overtopping other structures". The Boston Traveler hailed it as a "monument to nerve building - a striking feature of the big Food Fair".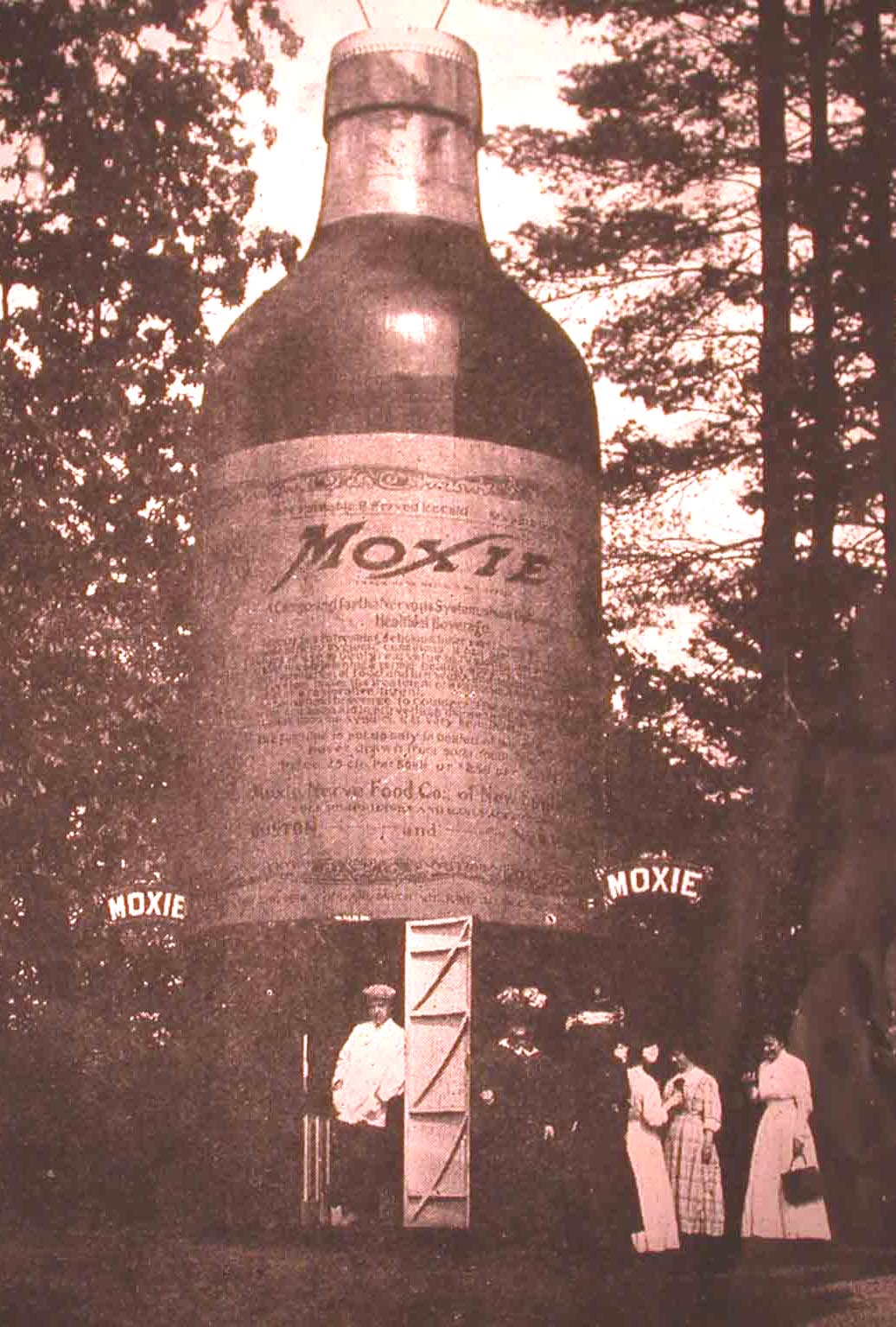 Between 1908 and 1909 it was displayed at various venues, including a stint at Luna Park in Coney Island NY. In 1910 it arrived for "permanent" display at Pine Island Amusement Park in Manchester NH.
The Park was owned by the Manchester Traction, Light, and Power Company which had established it as an end-of-the-trolley-line park, typical of many early in the century. This Park was situated on a recreational pond, and featured cottage building lots for lease by summer residents along the shoreline.

For almost a decade the Moxie Bottle Stand catered to passers-by on their way to the Park's roller skating rink. One woman fondly recalls paying the man a nickel for a cold glass of Moxie, being allowed to go inside, climb up the internal ladder, gaze out an upper window with a view of Mount Uncanoonuc, then slide down from "way up high". And, she got to keep the glass.
During its stay the Bottle was repainted at least once, and its label was redone from time to time to reflect logo and company name changes (from "Moxie Nerve Food" to the familiar "MOXIE" with the swooping crossbar on the "X").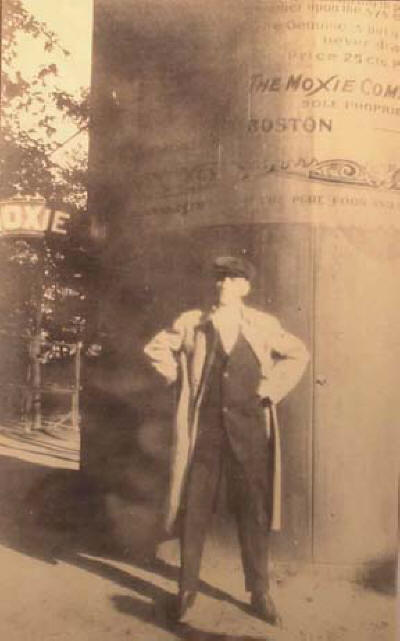 For some reason the Moxie Company decided to abandon the use of Bottle Stands as promotional media by the late teens.
Perhaps it was in the wake of hardships encountered in the aftermath of World War I, but more likely it was because of the increasing popularity of the Moxie Horsemobiles which were the most eye-popping advertising gimmicks of the era. It probably started to make much more sense to Moxie Management to invest in a widespread fleet of these mobile attention-getters rather than maintaining a now-mundane stationary kiosk or two.

At any rate, in 1919 Louis Messier and his apparently understanding spouse heard of the abandonment of the Moxie Bottle Stand and had a domestic vision. They assumed ownership of the Stand, had it dismantled, and during the following winter had it moved across frozen Pine Island Pond and onto cottagers building lot #54.

During the spring and summer of 1920 he re-erected the Bottle on the lot, built and attached a small two-room cottage to it, added indoor plumbing, wiring, a hammock, and an upright piano, then moved in. His novel habitation was noted and publicized in local and Boston newspapers. Analogies were made to the old woman who lived in a shoe, Peter and the pumpkin shell, and even to homes made from discarded street cars. Also, since this was the time of Prohibition, much was made of keeping "spirits" out of the Bottle.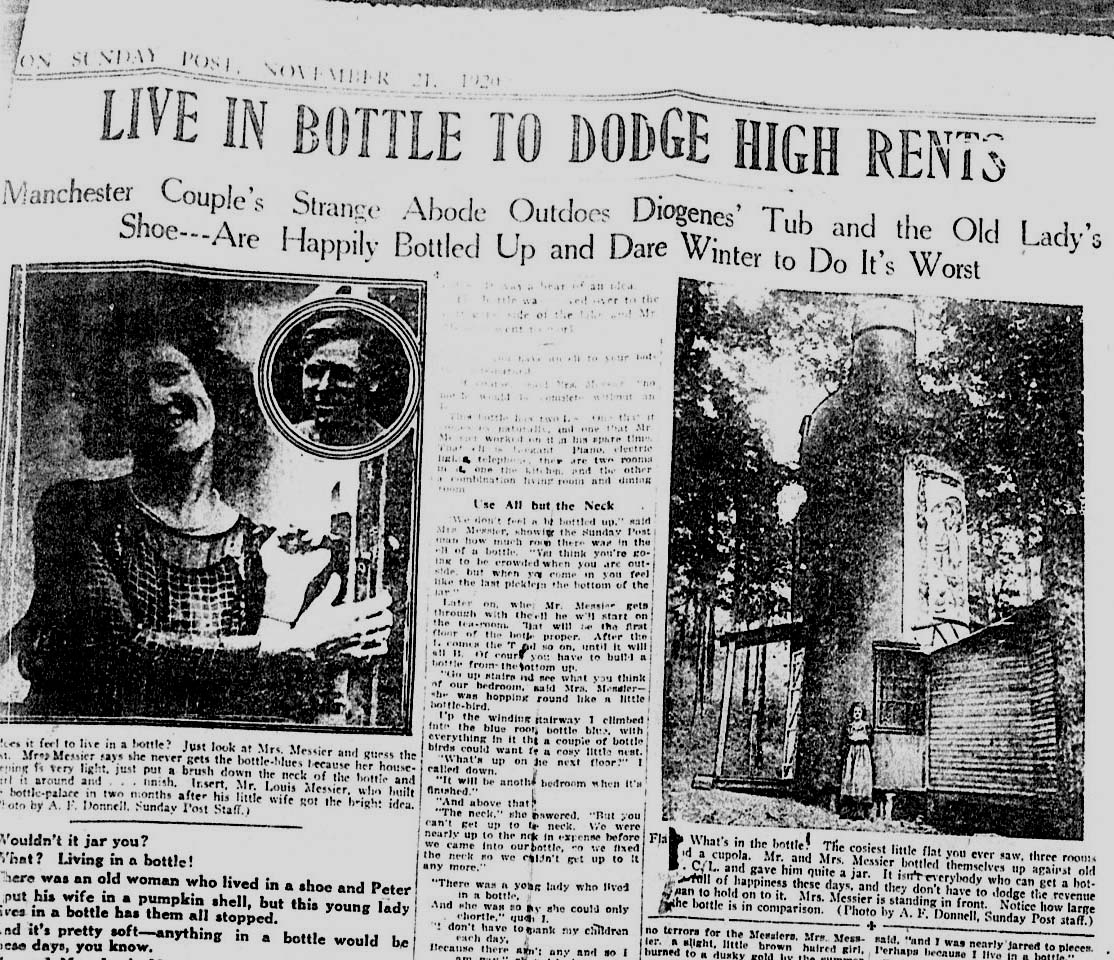 All was apparently fun and games for the Messiers at the time, but after two years of this merriment, for whatever reason, they sold out and moved on (presumably to more conventional digs).

James J. Todd was a newspaper executive who desired to "summer" in New Hampshire. When he heard of this "Bottle House" for sale on the shore of Pine Island Pond, he decided that this was an ideal vacation spot to bring his growing family to, so he bought it from the Messiers in 1922 and moved in with his wife, kids, and father-in-law. For several decades thereafter the Todds' Bottle House was the social center of the Pine Island Pond cottage community.
Neighborhood kids and their friends now recall the excitement they felt when first permitted to climb inside the bottle and to peer out the observation window in its neck.
The Bottle House survived the flood of 1936 and the great hurricane of 1938 with minimal damage. During World War II, pilots flying into Grenier Army Airbase (now Manchester-Boston Regional Airport) were known to have used the 4' silver-colored cap on top of the Bottle House as a navigational aid.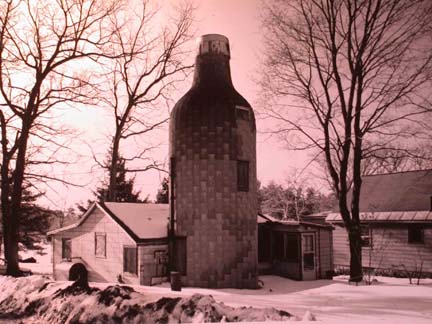 By mid-century the House had become a local tourist landmark.
By the 1960's, as families will, the Todds began to disperse causing the Bottle House to be used more sparingly as a summer retreat and occasional temporary winter haven.
It became virtually abandoned by the mid 1980's, after which the property gradually and sadly fell into a state of disrepair. After Mary Todd passed away in 1990, the property was sold to a Pond Drive neighbor, who only wanted that part of the Todd property which abutted his. He was not particularly interested in the Bottle House, but had to take it as part of the deal.
Shortly thereafter, however, it was sold and did change hands a few times.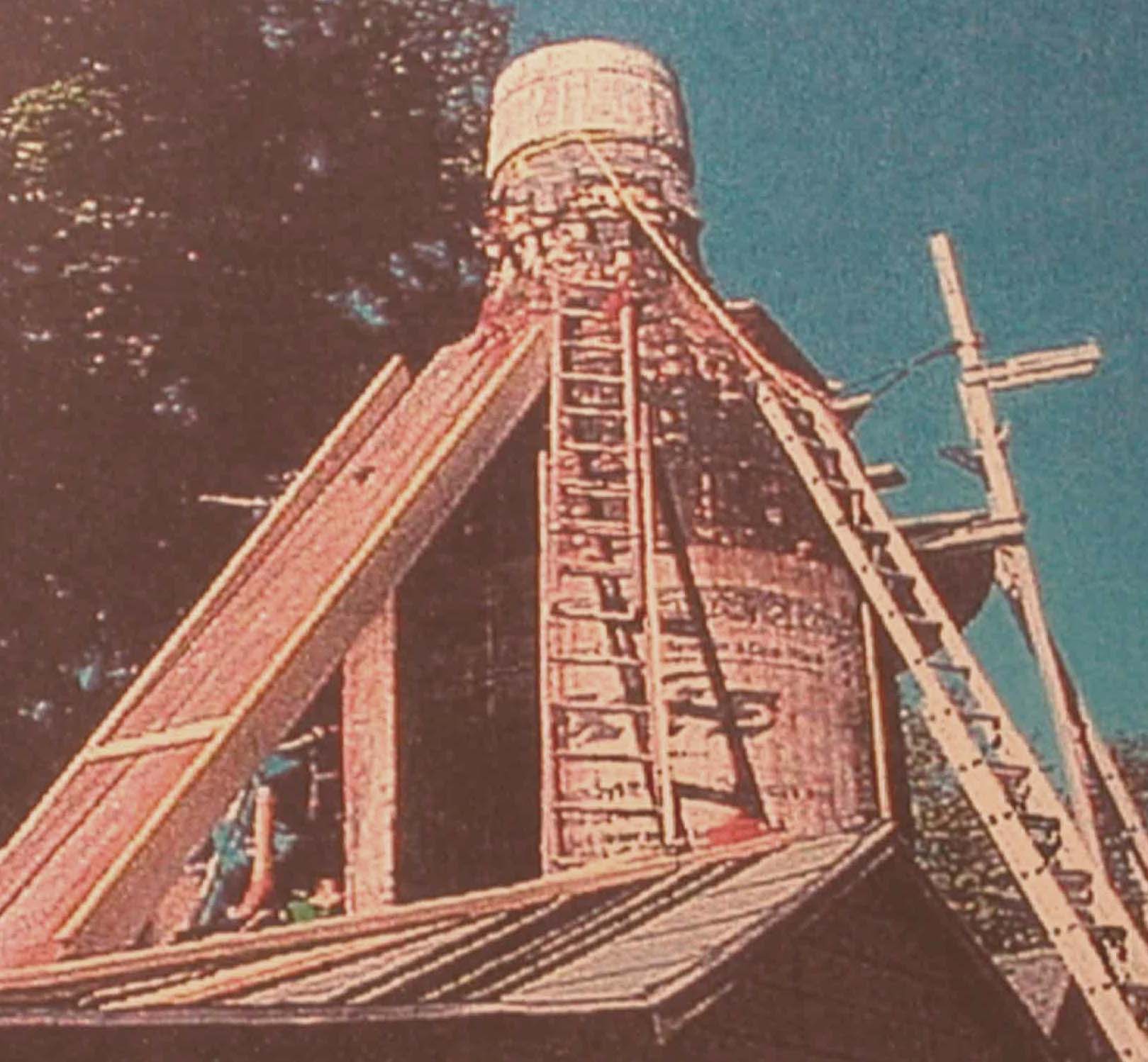 NEMC members Dave Lowell and Paul Hemen bought it and in 1999 carefully and methodically unshingled, dismantled, and removed the Bottle portion from the rest of the cottage, loaded the pieces in a U-Haul, moved them to a storage facility in Maine.
After the dust settled they began to ponder what in the dickens they were going to do with their unique but awkward treasure. There was no question that somehow, this fragile relic had to be saved for posterity, but how?
With NEMC treasurer Judy Gross leading the pack, a "Friends of the Moxie Bottle House" group was formed, and within days enough money was raised to buy the Bottle House from Dave and Paul. The Matthews Museum in Union ME (birthplace of Moxie founder Augustin Thompson) was contacted, and the ball started rolling to establish their museum as the final exhibit site and resting place of the Moxie Bottle House.
End of story? - - - not quite - - -
Much more remains to be done. Measures have been taken preserve the century old wooden structure and its faded and peeling painted finish, and a building which has been designed to house and properly display this immense bottle structure and protect it from the elements has now been built, but ongoing care and maintenance must be provided for. In short, a lot of help is still needed!
It became a reality in 2009...and YOUR help can help keep it that way!
By now, there is undoubtedly a lump in your throat, a tear in your eye, some fire in your belly, and your nerves are being fed by the thought of a sip of Moxie passing through your lips. Join the crusade! Travel the Maine Moxie Trail (see link on home page) and go downeast to Union and see the Moxie Museum annex of the Matthews Museum, where the Bottle House now resides, or see below to find out more about how you can further help with the campaign to keep this portion of our heritage alive for future generations who need to know what it really means to "have plenty of Moxie".
One way to help support this project and in the process get some neat teeshirts, hats, and other goodies directly from the Matthews Museum...click HERE for info.
Any and all additional donations to support the Moxie Museum Annex are always gratefully accepted! Make checks out to Matthews Museum (Moxie) and send to Matthews Museum, POB 582, Union ME 04862....and thank you for any help you may choose to provid.